The 2018 Mazda 3, the most fun to drive!
January 05 2018, Richard DesRochers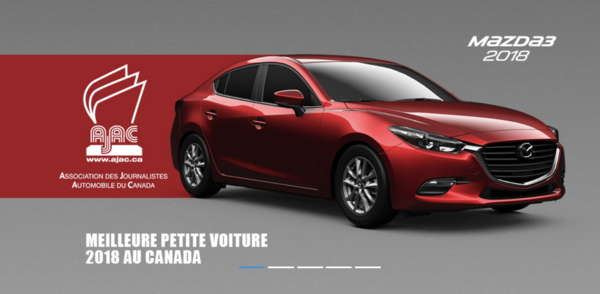 Recently lauded by the AJAC (Automotive Journalists Association of Canada) for the category of the best small car in Canada for 2018, the 2018 Mazda 3 is surprising.
First, no matter who wins in this category, there is competition and the competition is very fierce. The success of the 2018 Mazda 3 is the result of several technical and aesthetic touches, including the pleasure of driving at its best.
What is being said about the 2018 Mazda 3
What Mazda engineers have understood is that the driving experience is really the most important variable that motorists consider when buying a car. Even on paper, when comparing cars in the same category, 2 cubic centimeters more storage or 0.3 tenths of a second faster: between me and you, that doesn't mean much.
For example, the interior and exterior of the 2018 Mazda 3 are practically flawless. The level of finishes and new functionality makes all the difference. In short, now you're able to drive a high-end car without sacrificing your financial health.
Driving a 2018 Mazda 3
With the power of its 2.0 L 150 horsepower engine or 2.5 L 84 horsepower engine, passing other motorists on the road is safe and easy. Moreover, the power/torque allows you to spring to 100 km / h in 8.1 seconds. The braking is very smooth and there is no unnecessary play in the brake mechanics.
The 2018 Mazda 3 has excellent steering, giving you the sense of being well-centered with direct and precise inputs. What's more, even on damaged roads, you feel like you're gripping the road.
To find out what it feels like to drive the 2018 Mazda 3, contact us at 514 453-3333 to book your test drive.
Gallery