Mazda Partners with Clear the Air!
November 09 2012, David Létourneau

To encourage owners of older, more pollutant, vehicles to dispose of it, Mazda Canada is partnering with the Clear The Air! organization. Older vehicles are a safety hazard and are detrimental to the quality of the air we breathe.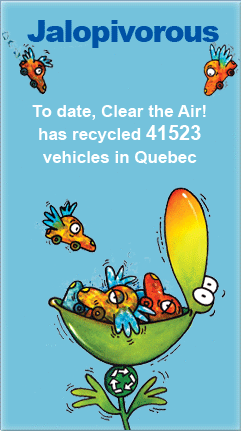 Mazda Canada Inc. is pleased to announce a new partnership with the vehicle recycling program Clear The Air! from the Association québécoise de lutte contre la pollution atmosphérique, (Quebec association for the fight against pollution) AQLPA. Starting now, customers who decide to recycle a vehicle model year 1998 or earlier could receive a rebate of up to $1500 for the purchase or lease (36 months or more) of a vehicle model year 2008-2013 at Mazda 2-20.
AQLPA's vehicle recycling program Clear The Air! aims to reduce greenhouse gas emissions and improve air quality by replacing older vehicles, which are more pollutants, with more environmentally-friendly new models. The new Mazda SKYACTIV technology goes in the same direction with lighter, safer, and more efficient vehicles, propelled by an advanced internal combustion technology.
SYACTIV technology, starting with the all-new 2.0L 4-cylinder engine with direct injection SKYACTIV-G, available in the Mazda3 and CX-5 crossover, will be the cornerstone of all future Mazda vehicles, including the 2014 Mazda6 sedan that will land on the Canadian market in 2013. Mazda, supported by the Mazda 2-20 dealer, has committed to a 30% reduction in fuel consumption of the vehicle fleet by 2015 (compared to 2008), achievable through vehicles equipped with SKYACTIV technology of which the fuel consumption is comparable to hybrid vehicles. Such an achievement will help purify the air for future generations.
This program clearly indicates that the government of Quebec is firmly committed to improve the environment, a project that Mazda is proud to participate in. Mazda 2-20 offers a wide selection of fuel-efficient and future-oriented vehicles that are also fun to drive. Vehicles that customers can buy guilt-free to help purify the air we breathe.
You can help to clean up our air with a fuel-efficient vehicle. Schedule a test drive at your local Mazda 2-20 today.