The 2018 Mazda MX-5, quintessential harmony!
January 12 2018, Marie-Andrée Boisvert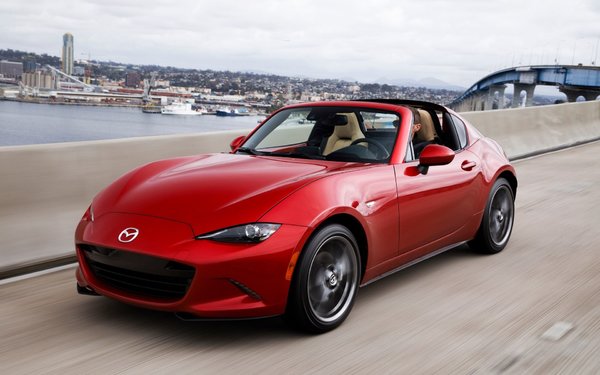 Quintessential harmony definitely characterizes the 2018 Mazda MX-5.
Compared to the other four elements, fire, water, wind and earth, only the 2018 Mazda MX-5 can give us intense and pleasant feelings. Three years already since its redesign, the MX-5 is still full of surprises to discover.
What's new with the 2018 Mazda MX-5
It's important to note that red is in the spotlight. The new 2018 Mazda MX-5 features new soft top colours such as Dark Cherry, an Auburn Nappa interior and Soul Red Crystal exterior paint options. As in the past, the 2018 Mazda MX-5 comes with three trim levels, the entry-level MX-5 Sport, the MX-5 Club and the MX-5 Grand Touring, which is the most luxurious version.
The 2018 Mazda MX-5 comes with a new Mazda Connect infotainment system with a 7-inch touchscreen and HD radio connectivity. All of the models are also equipped with Mazda's advanced keyless entry system, so there's no need to take your keys out of your pocket.
The luxury of the MX-5 Grand Touring
As with most Mazda models, the more luxurious versions are really jazzed up. The 2018 Mazda MX-5 is no exception, with its leather-appointed heated seats, automatic climate control, automatic headlights, high-beam control with adaptive front lighting, lane departure warning, auto-dimming rear view mirror, navigation, rain detection wipers, additional sound absorbing material in its roof trim fabric, and several other comfort features.
For a test drive, or to surprise someone with this remarkable jewel, contact us at 514 453-3333.