Mazda Unlimited, the only unlimited mileage guarantee in Canada!
January 26 2018, Marie-Andrée Boisvert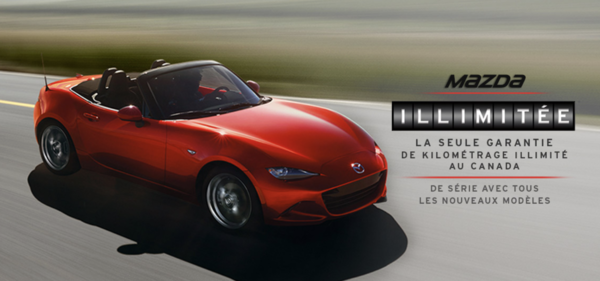 Standard on all models since the 2015 model year, Mazda is the only manufacturer to offer a standard unlimited mileage warranty on all new models. In addition, its vehicles are designed for Quebec's road conditions!
One of a kind in the country, the Mazda program covers, among other things, unlimited mileage for the following warranties:
1.3 YEARS: New vehicle
2. 3 YEARS: Roadside Assistance
3. 5 YEARS: Powertrain
4. 7 YEARS: Anti-Perforation
So you can focus on every exhilarating driving moment rather than watching the odometer.
Here are the standard warranties on all new models:
1. New vehicle: 3-year Unlimited Mileage Warranty - Every new Mazda vehicle in Canada (2015 and later) comes with a 3-year Unlimited Mileage Warranty. You can forget your odometer and concentrate on enjoying the road.
2. Roadside Assistance: 3-Year Unlimited Mileage Waranty - With our 3-year Unlimited Mileage Roadside Assistance Warranty, you'll have peace of mind knowing that your vehicle has been designed to go far.
3. Powertrain: 5-year Unlimited Mileage Warranty – Don't just drive. Drive with confidence with our 5-year Unlimited Mileage Powertrain Warranty.
4. Anti-Perforation: 7-Year Unlimited Mileage Guarantee - For the Mazda driver who wants to get the most out of their vehicle, there's the 7-year Unlimited Mileage Anti-Performation Warranty.
In Quebec, Mazda vehicles are tested for our road conditions!
In addition to offering you the best warranty on the market, Mazda goes further and actually tests its vehicles for Quebec's tough road conditions. Check out these 3 videos where Mazda faces the challenges of extreme cold, salt, gravel and a corrosive environment.
To fully experience Mazda's legendary reliability, make an appointment for a test drive today!